Blog Follow these B2B Lead Generation Methods to Bring in New Customers & Boost Your Sales
Are you a B2B marketer struggling to generate high quality leads? Below are 5 lead generation methods you can implement to fill your lead funnel and delight your sales team:
(1) Produce High Quality Content that Are Helpful
Giving away useful and educational content that provide values to your target audience is one of the best sales lead generation methods today in the B2B space. In B2B, the sales cycle is generally long, with multiple people involved in the decision process. You should do some research and find out what problems or issues your target audience is struggling with and what they want to learn.
You can then produce the necessary content to address the issues or problems your target audience is dealing with and offer your solutions or insights. It's important to not try to over promote your products or business. Instead, your content should be educational and informative. The idea is to establish yourself as a specialist within your field. The more content you produce that offer values to your target audience, the more you will earn their trust. And guess what? When they are ready to buy, they will mostly likely consider you!
Your content can be offered in the following format:
Blog Posts
Whitepapers/EBooks
Case Studies
Videos
Slides
Webinars
(2) Get Instant and Targeted Leads with Search Engine Marketing
Because of the popularity and power of search engines such as Google, more and more people are relying on search engines to conduct research and to search for information, products, and services.
As such, it is more important than ever for your business to be found on search engines such as Google. In fact, advertising on the Google Search network gives you the quickest way to get targeted leads.
There are two ways to get exposure on the Google Search network – Organic and Pay per Click Ads. The organic listings are free while the pay per click ads are based on cost per click basis. Below, the listings on the left (enclosed in the blue box) are the free organic listing. The listings on the top and right (enclosed in red boxes) are the pay per click ads.
Figure 1. Google Search Results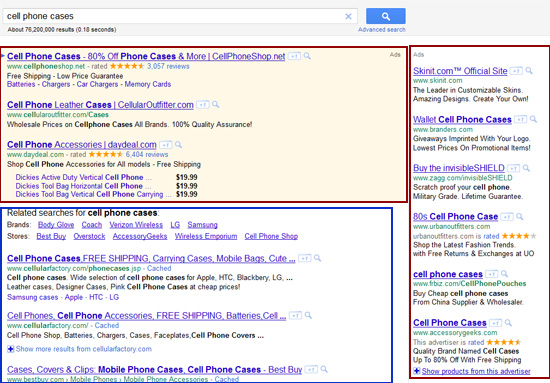 If you're new to Search Engine Marketing, you should hire an expert to help you.
(3) Trade Shows are Great for Connecting with Target Audience
Exhibiting at tradeshows is a great way to get exposure to your targeted prospects.
Most attendees at tradeshows are qualified prospects and they are there to look for better solutions to improve their business efficiency or solve their current problems.
Tradeshow is expensive though. To get the most out of your tradeshow investment, follow these tradeshow marketing tips:
Choose shows carefully - Do some research to make sure your likely customers are well represented.
Assemble a great staff and train them well – Your staff should be well prepared and well trained to engage prospects at the show and to collect necessary information for sales to follow up.
Give out useful promotional products – Promotional giveaways are an effective marketing tool to build brand exposure and endear your brand to your prospects. Just make sure that you select promotional items that are useful and well liked by your target audience. One of the most popular promotional products to use at tradeshows is logo USB Flash Drives or USB Business Cards. They are practical and your target audience will likely keep them around for a long time. Additionally, the key benefit with USB flash drives is that you can preload them with your product catalog, videos, PDFs, and any content that you can think of to promote your products or services and to educate your prospects about your products or services. A popular storage size for promotional use is 2gb USB flash drive.


Figure 2. Boost Your Lead Generation Efforts with Logo USB Flash Drives




Figure 3. Impress Your Clients with Custom USB Business Cards
(4) Network with Prospects in Social Media Networks & Forums
More and more people are plugged into the Internet and your prospects could be found in various social networks, forums, and blogs.
Twitter – People use twitter to discuss about all sorts of topics. For example, your prospects could be facing a particular problem and are looking for solutions. They could also be discussing various issues related to your products or services. The right way for you to find prospects on twitter is to search for keywords that are related to your products, services, industry and the problems that your potential customers are trying to solve. The idea is to engage the prospects to offer your advices and recommendations and to network.
LinkedIn – LinkedIn is a great place to network and get referrals. If you are trying to reach prospects from a certain company or industry, you can rely on people from your network to refer you. You can also follow groups that are relevant to your industry and participate in the discussion. The idea again is to offer value by contributing your ideas, thoughts, and answers. Over time, people will develop trust for you and will seek you out when they need help.
Forums & Blogs – There could be many forums and blogs with active members discussing about topics that are related to your products, services, or industry. Find these forums and blogs by doing a search on Google or on blog search engine such as technorati and engage in the discussions.
(5) Generate Awareness and Publicity with PR
Generating awareness for your products, services, or business is an important part of the lead generation process. By leveraging the right PR channels, you could quickly build awareness for your business. Here are the different ways of leveraging PR:
Issue an online press release through PRweb.com or PRNewswire.com.
Reach out to bloggers that cover your industry and offer to guest blog or a do an interview.
Reach out to journalists and editors of trade publications and pitch your story.
Please Share Your Lead Generation Tips
Have you had success with any other sales lead generation methods for B2B? Please share by commenting below!