Blog Unique Fundraising Product Ideas for Schools, Clubs, and Churches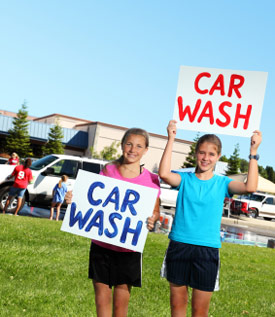 Are you tired of doing car washes, selling candies, and doing the same old boring fundraising activities to raise funds for your schools, clubs, or churches? Looking for unique fundraising product ideas to net you more money for your school, club, or church?
At the previous companies where I worked, I was constantly harassed by my co workers to buy their kids' useless fundraising items. It's either a candy bar or some cheesy stuff that I never used. I wish they had offered me more practical things that I like and could actually use!
Unique Fundraising Products that Are Useful and Popular
Every time I go to a tradeshow or an event, I see all kinds of promotional giveaway products. Recently, promotional USB Flash Drives have been the hottest promotional products.
They're used by businesses and organisations all over the world for tradeshow and event giveaways. People love them and use them in their daily lives for many years to store data or share/transfer digital files.
Since most people would be excited to spend some money these useful tech gadgets, they are the perfect products to sell for fundraising. You can definitely raise significant funds with these popular devices!
Types of USB Models for Fundraising
You have a wide variety of choices for the USB styles and models. Some of the popular models include usb pens, usb bottle openers, leather usbs, wooden usbs, usb cards, usb keys, usb bracelets, with storage capacities up to 16GB. The most popular storage size drives are 2GB Flash Drives.
You can even personalize the drives by printing or laser engraving your school, church, or club's logo on the drives.
Additionally, if you want accessories, there are presentation tins, magnetic boxes, neckstraps, blister packs, and key chains to make your usb fundraising offerings more attractive.
By working with a branded usb supplier like Flashbay, we'll help you choose the best usb models and storage capacity for you budget and provide an image mockup showing how your logo looks on the product. We can even preloading the flash drives with videos, photos, or any documents to promote your organisations.
Give Your Fundraising Effort a Boost by Selling USB Flash Drives
So, the next time you are doing a fundraiser, you now have a popular and cool product that people are excited to buy. You no longer are stuck choosing among the boring cookies, t-shirts, candles, etc that everyone else is selling!