Blog Swedish News TV Show Highlights Flashbay's Wafer USB Card
We are proud to share that Flashbay's
Wafer USB Card
, one of the world's slimmest USB cards at just 2.2mm thin, featured on popular TV4's News Morning Swedish show last September 26.
Näääk, a Stockholm based Hip-Hop group signed by Universal Music, became the focus of the show's music review section as hosts agreed that releasing their new album on the Wafer
USB Card
was an exciting, innovative as well as cool way to
digitally distribute their music
on a portable and stylish USB drive.
The Wafer USB Card's appearance on
TV4
, which accounts for over 20 per cent of Sweden's TV audience, has added further momentum to the product's burgeoning popularity in the music industry. Artists and record companies alike value the potential to completely customise the product's large brandable area with a lively full colour photo print – perfect for showcasing album cover artwork.
Follow in the footsteps of Näääk / Universal Music and strike the right note with your next promotion by using the Wafer USB Card from
Flashbay
.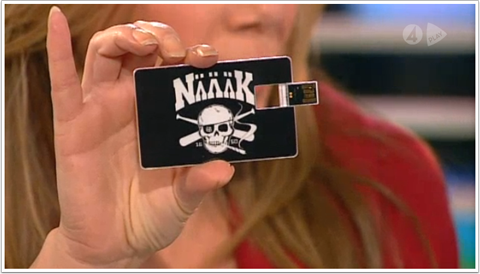 Flashbay's Wafer USB Card on Swedish TV4's Morning show
You can watch the
credit card shaped Wafer USB
taking centre stage on TV4's News Morning show on the below embedded video (also available on
TV4's on-demand video channel
).